The Fresh Newsletter
What's Fresh...
Fresh Referral Program
Check out our incredible referral program! Our way of saying thank you for all the great referrals we get from our clients. Earn incredible services just for sending us your friends!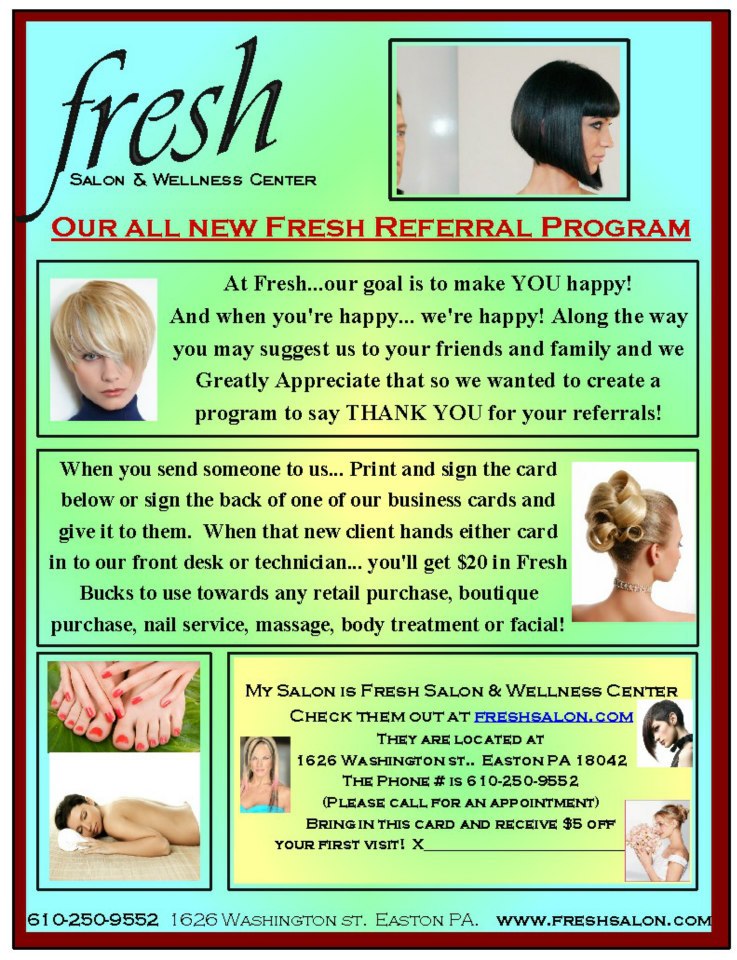 ---
Fresh Social Accounts
Don't forget to become a Facebook and Twitter follower. Fresh Salon & Wellness Center posts awesome deals on our Facebook page. Don't miss a beat, and like our page today!
---
Fresh Email List
Are you getting our Fresh Emails? If not, email us today at joe@freshsalon.com from our contact page and type "Add Me" in the subject. Then enjoy our great emails packed with cool specials.
---
Work for Fresh
Fresh Salon is always interested in an experienced stylist to compliment our team. It's a great opportunity to be in a wonderful work environment. Apply online on our contact page or in person.
---
New Fresh Website
We have a new website! The site is significantly easier to navigate, and has a great new catalog. You can now sign up for an account on our catalog and create wish lists and write reviews on our services. This website is designed to make your online experience with Fresh as pleasant and productive as your experience in our salon.
---
Are you Gettin' Fresh at your current salon?
We'd love the opportunity to show you how amazing you could be!! What's the difference? We listen to you, focus on you, and we won't stop until you are your absolute best!
---
A small note to all our wonderful clients...
Thank you for your patronage & friendship and for sharing your time with us at Fresh. We enjoy and appreciate each and every one of you. We know you trust us with your appearance and we take that trust very seriously. We love what we do and truly embrace the opportunity to work with you every time you step foot into our salon...After all, it's because of you that we're here!

We thank you for choosing Fresh Salon and as always look forward to your next visit!
— Joseph Bordonaro